How to Order Hall Runners
For instructions on How To Order Hallway Runner, see below.
As an example, I want 475cm (4.75m) of Hall Runner, but runners are sold "by the Meter" so I need to order 5m.
I've selected the Runner I want, I've entered 475cm in the "Requested Runner Lengths" section,
then I've Entered 5 in the Qty box, then click "Add to Cart".
For multiple lengths just add the quantities together, e.g. 4m length and a 7meter length, so put in Qty box 11.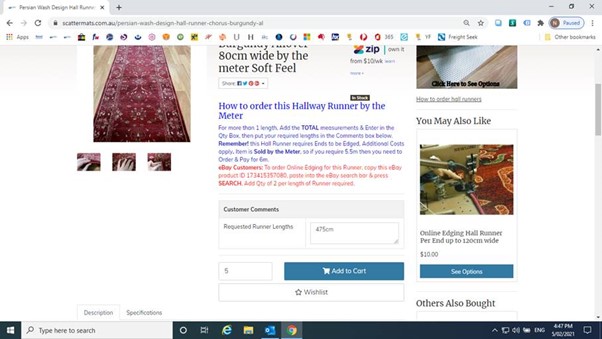 A Pop Up screen will appear, click "Continue Shopping".
Below there is a product "Online Edging Hall Runner".
Note this will only appear once the product width has been selected on multi width runners.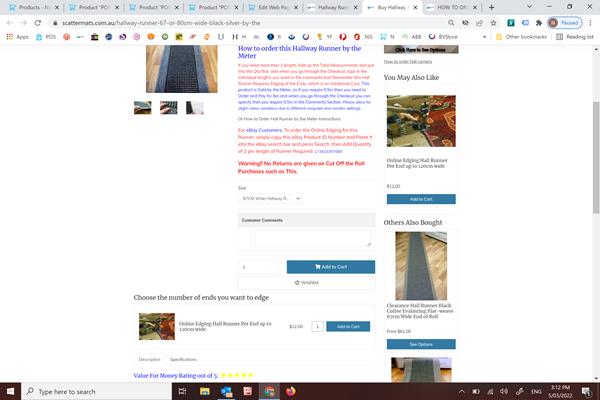 Change the Qty from 1 to 2, so we will edge both ends of the Runner for you. Then Add to Cart.
Note that if you want more than 1 length of runner add qty 2 for each length.
A Pop Up screen will appear, click "View My Cart".
Below is how your Cart should look.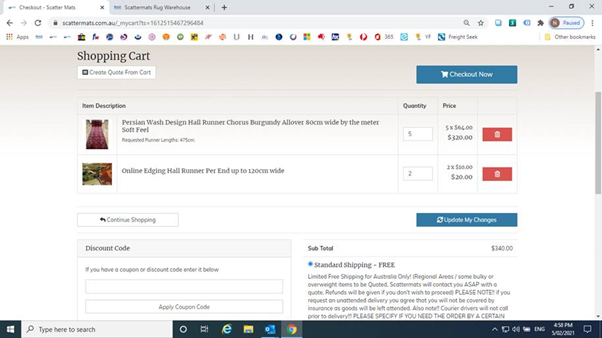 Scroll down the page & Click Checkout Now.
As you are a New Customer, Create an Account.
Enter your details, tick the agree to Terms & Conditions, & then Register & Continue.
Proceed through checkout, filling in all required fields, complete payment & finalise order.
Once your order is processed & the courier is booked we will email you the tracking information and eta.
If you have any questions or need assistance, please contact us.